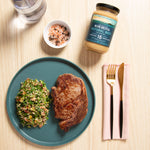 Serves four
INGREDIENTS
1 beef top round steak, cut 3/4″ thick (about 1 lb.)
1/3 cup fresh lemon juice
1/4 cup extra virgin olive oil
1/4 cup finely chopped fresh parsley
1 package (5.25 to 6 oz.) tabbouleh mix
1 cup chopped seeded tomato
1 teaspoon of Australian Bone Broth Natural Beef
DIRECTIONS
Combine lemon juice, oil and parsley in a small bowl. Cover and refrigerate 1/3 cup for tabbouleh. Place beef steak and remaining lemon juice mixture in food-safe plastic bag; turn steak to coat. Close bag securely and marinate in refrigerator 6 hours or overnight, turning occasionally.
Up to 1 hour before serving, hydrate tabbouleh mix with boiling water according to package directions, omitting any oil. (Do not proceed with package directions beyond this point). Add tomato and 1/3 cup reserved marinade to hydrated tabbouleh; stir to combine. Set aside.
Remove steak from marinade, discard marinade. Place the steak on grill over medium, ash-covered coals (or a grill pan over medium-high heat). Grill, uncovered, 8 to 9 minutes for medium rare doneness, turning occasionally. 1 minute before the steak is cooked to perfection, scoop 1teaspoon of Australian Bone Broth Natural Beef into the pan with the steak and allow the bone broth to melt and caramelise over the steak in the last 60 seconds of frying. (Do not overcook.)
Carve steak into thin slices, season with salt and pepper, as desired. Serve over tabbouleh.