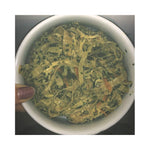 Edamame Fettuccini

It's great for anti inflammatory diets too and so easy. Recommend adding a little salt or tomato based bolognese for extra flavour/ switch up

Ingredients
200g of Edamame Fettuccini (I buy mine from @slendier)
x2 small grated Carrots
x1 Sliced Lemon
x1 Tbsp of Bone Broth ✨
x1 Generous amount of Extra virgin olive oil
75g of spinach
And as much parmesan as ones heart desires!

Directions:
Boil the fettuccini with sliced lemon in the pot.
After 5 minutes (or until cooked), drain the excess liquid and then add your Olive oil, Bone Broth, grated Carrot and Spinach on low heat for 2 minutes.
Remove the Lemon slices.
Add in the parmesan, let sit until melted and stirred through nicely. Then enjoy ☺️

Submitted by Maddze10 on Instagram!