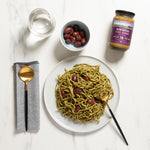 Serves Four
INGREDIENTS


350 g spaghetti
2 cups firmly packed basil leaves
2 cloves garlic
½ cup (70 g) pine nuts
⅓ cup extra virgin olive oil
½ cup nutritional yeast
Squeeze of lemon juice
¼ teaspoon salt
½ cup sun-dried tomatoes, roughly chopped
⅓ cup pitted Kalamata olives, roughly chopped
¼ cup toasted pine nuts, extra
¼ cup extra basil leaves, to garnish
1 teaspoon of Australian Five Herbs Bone Broth
DIRECTIONS
Boil pasta in a large saucepan of salted water for 10 minutes or until al dente.
Meanwhile, to make pesto, place basil, garlic, pine nuts, olive oil, nutritional yeast, lemon juice and salt in a food processor and process until finely chopped. Add 1 teaspoon of Five Herbs Bone Broth and blend until smooth.
Drain pasta and return to pan. Stir through pesto, sun-dried tomatoes, olives and extra pine nuts. Season with salt and pepper.
Divide among serving bowls and garnish with extra basil!