On Sale
Beef Bone Broth Concentrate - Nutrient Dense, All-Natural Instant Beef Broth Packed with Collagen Protein, 16 Key Amino Acids
Superior Quality Ingredients - Our Beef Bone Broth Concentrate is carefully crafted using Australian grass-fed beef bones and evaporated sea salt to uphold the highest quality standards in our product.
Packed With Nutrients - Enrich your diet with our rich source of collagen protein and 16 key amino acids. Easy to digest, it provides substantial health benefits and contributes to your overall wellness.
Freshness in a Jar - Our concentrate is pasteurised and bottled to lock in goodness. Refrigerated, it stays fresh for up to 4 months. Packed in custom box, it ensures the bottle arrives in prime condition.
Dietary Safe - This product is Gluten-free, Dairy-free, Nut-free, and Soy-free, making it suitable to fit with many dietary restrictions. It's also free from antibiotics and hormones, ensuring your health and safety.
Exquisite Taste - Great for disguising in children's meals to boost their nutritional intake. Add just a teaspoon to 100ml of hot water to create an instant, delicious beef bone broth beverage.
Ingredients: 100% Australian Beef Bone Broth (88%) Naturally Evaporated Sea Salt.
The opened jar will last at least for 4 months in refrigerated conditions. Use only a clean spoon each time to avoid containment in the jar, then the broth will last until the BBD.
Our current Best Before Date is 17 APR 2025
Recycling: The metal lid and glass bottle are both widely recycled.
Customer Reviews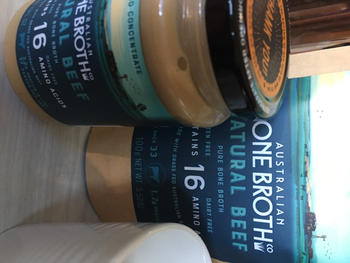 06/12/2021
Natural bone broth
Very tasty as a drink or enhances cooking. Would highly recommend this Aussie product. Delivery is fast & care is taken in packaging so items arrives safely.
Chrissy W.

Australia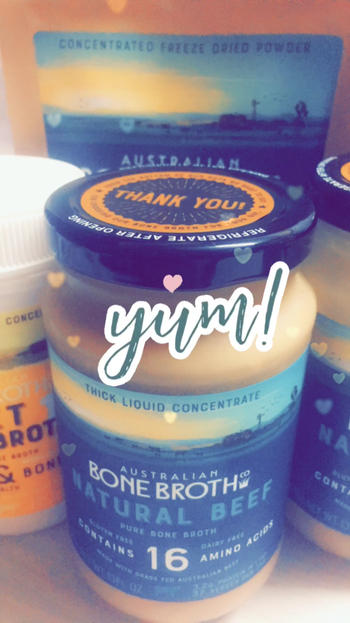 09/14/2020
Honestly best tasting broth
Delicious tasting Beef bone broth to enjoy as a hot drink or added to recipes adding nutrients to your meal. Fast delivery & well packaged. Would highly recommend this lovely tasting broth. Our dog also enjoys the pet bone broth.
Chrissy W.

Australia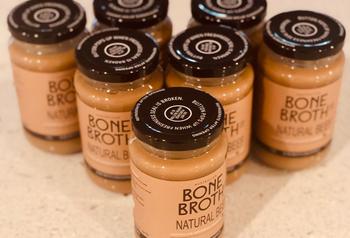 12/04/2019
Deliciousness in a jar
Love the bone broth concentrate, I drink a cup every morning. Perfect start of the day
Camilla R.

Australia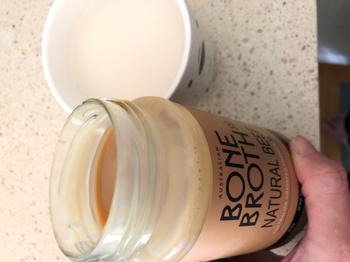 12/04/2019
Simple, clean and nourishing
I love how simple the ingredients are.. just two of them, sea salt and bone broth. Taste wise, delicious and very nourishing for any time of the day. I love the fact that I can come home - hungry and have a hot cup of bone broth to fill me up.
Su T.

Australia
12/08/2023
The best bone broth in Australia. Hands down.
David

Australia