On Sale
Bone Broth Concentrate - Natural Beef Bone Broth
Our natural beef bone broth flavor is the perfect nutrient dense elixir to start your day. Sprinkle some fresh herbs or spices to make your own creation.
Perfect condiment to boost your favorite meal and so easy to disguise in the children's meals giving them a boost of all important nutrients.
Nothing to Hide: Our natural beef bone broth is made from only grass-fed and finished Australian beef bones and evaporated sea salt. Ideal base broth to flavour as you desire by adding herbs and spices. Easy to disguise and boost children's meals.
Look after Yourself with a cup a day: Our bone broth is a perfect way to include a rich collagen protein food source to your diet. Our beverage broth has 16 key amino acid nutrients in each 10 grams serve, helping to revitalise your building blocks with a daily hot bone broth drink.
Ingredients: 100% Australian Beef Bone Broth (88%) Naturally evaporated sea salt. Our easy-to-digest tasty broth is easy to make, just add 1 teaspoon to a cup of 100 ml of hot water for a beverage drink. NO added vegetables or herbs. Just Pure Beef Bones and Salt. Refrigerate after opening.
Recycling: The metal lid and glass bottle are both widely recycled.
Customer Reviews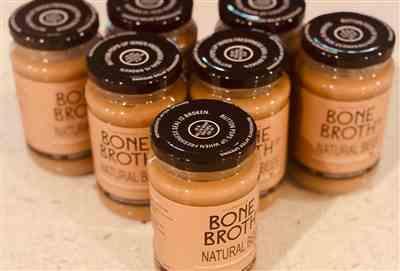 12/04/2019
Deliciousness in a jar
Love the bone broth concentrate, I drink a cup every morning. Perfect start of the day
Camilla R.
Australia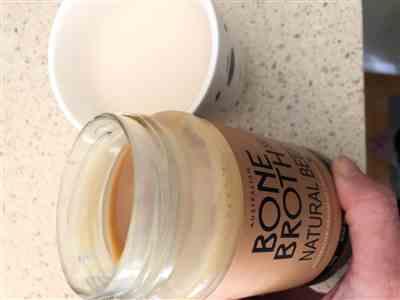 12/04/2019
Simple, clean and nourishing
I love how simple the ingredients are.. just two of them, sea salt and bone broth. Taste wise, delicious and very nourishing for any time of the day. I love the fact that I can come home - hungry and have a hot cup of bone broth to fill me up.
Su T.
Australia
06/03/2020
Delicious and Healthy
I've started adding Australian Bone Broth Co liquid concentrate to my cooking, mostly soup and stir fries. I began taking it because I felt my immune system could use a little help. However I found I love the taste too. So easy to incorporate in my daily diet and so good to know I am doing something positive without taking pill based supplements! Turmeric is delicious but my fav is the natural beef. My parents are now taking it too. I'd highly recommend this product to anyone.
Renee W.
Australia
05/27/2020
Happy with my purchase
It has a nice creamy texture and easily melts into a warm comforting drink. It's doesn't have super flavoursome taste, but it's also not bland. Will buy again.
Nicci G.
Australia
05/27/2020
Best Bone Broth EVER!
I absolutely love this bone broth, the flavour is amazing.
Serina I.
Australia