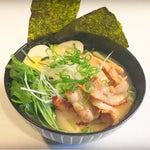 Arran, The Bento Buster, a customer from Japan sent us his video and recipe on how he makes a Quick and Easy Ramen with the Australian Bone Broth Beef Natural! 

You can view and subscribe to his YouTube channel with loads of great cooking recipes and videos! 
Click here


This is my quick & easy no fuss version of ramen using real bone broth. 
The real McCoy ramen from the ramen shops take days to prepare so to accelerate the painstaking process I'm using Australian Bone Broth Co concentrate. It's the real deal.
The fact that it is beef broth and not pork isn't an issue as the flavor is subtle and does the trick perfectly. This adds all that milky nutrient rich goodness instantly without the hassle. Enabling you to have top notch ramen in minutes rather than waiting for hours or days. And not to mention, great gut health thanks to the bone broth. I bought the bone broth on Amazon, it's also available on their website: https:www.australianbonebrothco.com.au

Good to support Australia in their time of need.

Aromatics:
Olive oil ½ tsp - 1tsp
Grated ginger (or finely sliced)
1-2 green onion, chopped or halved
Myoga ginger, finely sliced (optional as difficult to find outside of Japan)
2 cloves garlic, peeled (& smashed)

Broth:
2 Tbsp soy sauce (eg low-sodium)
2 Tbsp mirin
2 Tbsp sake
1 1/2 cups water
1 1/2 cups dashi ( eg chicken stock etc also ok)
1 Tbsp sugar
2 Tbsp miso paste
1 Tbsp Bone Broth Concentrate (eg. Bone Broth Co from Australia)
2 Shiitake mushrooms

For each serving:
1 potion of ramen noodles per person

Toppings:
There are so many topping to choose from. Here are the ones I used
Menma - Preserved bamboo shoots
2-4 slices chashu
1 Nitamago (boiled egg) halved
Mizuna leaves
Shredded leeks
Green onions - very thinly sliced
Nori seaweed - sheets cut down to size

INSTRUCTIONS
STEP 1
Place the stock pot over a medium to high heat, & sauté the aromatics in some olive oil. Note, keep the heat low enough to avoid burning the garlic.

STEP 2
Add the dashi (or chicken stock etc), mirin, sake, sugar, & water then bring to the boil. Add soy sauce, bone broth concentrate & miso paste. Add the shiitake, & bring the stock to a simmer then reduce the heat to low and simmer gently, skimming the surface when needed. Taste and add as you go. If it needs more of a certain ingredient then add it according to your taste. You can always increase seasoning but you can't undo an over seasoned broth.

STEP 3
Prepare the noodles according to the manufacturer's instructions. When ready, place the noodles in a large serving bowl.  

STEP 4
Pour the broth on the noodles (by straining the broth through a fine mesh sieve).   

STEP 5
Top with your choice of topping. Serve immediately.