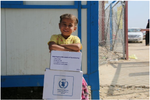 The month of August was a big deal for Australian Bone Broth Co.
We have partnered with the United Nations World Food Program because we strongly believe it is against a child's human rights to go hungry.
Thanks to your support, we have been able to start tackling this problem.
Throughout August, we were able to provide 425 meals to children who are going hungry daily. You, our valued customers, made this possible. Each bottle you purchased gave us the opportunity to donate 3% of the purchase price directly to WFP. 3% may look like a small number, but to bring this into perspective, that 3% turned into 5 nutritious meals. This was a huge success, an effort that has been so appreciated by Australian Bone Broth Co and the World Food Program. We thank you, from the bottom of our hearts, for supporting us to make a real difference.
This donation went worldwide, helping out in 81 different countries across the globe. But we are not done yet.
If you can imagine that in 81 countries, children go hungry, they go without food, they go without nutritional support. They need your help…
We want to keep supporting this amazing cause with your support, a cause that has made a tangible difference already and one that can only grow larger. We will not stop until every child is fed and each one grows us healthy and strong.
Thank you, wonderful people, for realizing the importance of this effort.