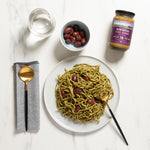 Serves FourINGREDIENTS 350 g spaghetti 2 cups firmly packed basil leaves 2 cloves garlic ½ cup (70 g) pine nuts ⅓ cup extra virgin olive oil ½ cup nutritional yeast Squeeze of lemon juice ¼ teaspoon salt ½ cup sun-dried tomatoes, roughly chopped ⅓ cup pitted Kalamata olives, roughly chopped ¼ cup toasted pine nuts, extra ¼ cup extra basil leaves, to garnish 1 teaspoon of Australian Five Herbs Bone Broth   DIRECTIONS Boil pasta in a large saucepan of salted water for 10 minutes or until al dente.Meanwhile, to make pesto, place basil, garlic, pine nuts, olive oil,...
---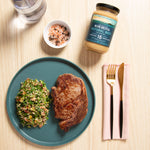 Grilled Steak with Tabbouleh Salad with Natural Beef Bone Broth
---
What they will do for you? A source of amino acids, minerals and collagen,bone broth rich nutrients contribute to improved gut health by calming the digestive tract, aiding healthy digestion and supporting repair. When freezing bone broth it neutralizes the taste of the broth, adding no obvious meat flavor to the smoothie.   Mix 1 tsp of Pure Beef Bone Broth with hot water, stir until dissolved. Pour into ice cube tray and freeze. Pop out as many ice cubes and add to your daily smoothies.  Mango & Maple Smoothie Prep Time: 5 minutes (+ freezing) Serves: 2 1 cup (250...