On Sale
Pet Bone Broth Concentrate - 350 gram
Beef Bone Broth Drizzle
The perfect tasty bone broth concentrate for your pet! Our pet bone broth is 100% Australian premium grass-fed beef bone broth.
 A daily serving of Bone Broth may offer these benefits:-
Hydration is an easy, quick way to get your pet hydrated when they need it. Perfect for those days when it is hot, and they stand a chance of dehydrating. A quick recovery idea on a hot day.
Increase Protein intake – every 10 grams of bone broth has 3.2 grams of protein.
Shinier fur coat and improved skin health – daily intake of bone broth will improve their fur coats, giving them a shiny fur coat and improving their skin health in general.
Some great ideas
Add it to almost anything your pet loves to eat or disguise those food items they need to eat!
 It is perfect for drizzling over their daily wet or dry food bowl just as you are about to feed them.
Bone Broth drink instead of water or milk.
Some freezing ideas for those hot summer days:  Make a broth drink as per the instruction and pour it into an ice cube tray and freeze. Give your pet a treat to help them hydrate and nourish them on hot days.
Ingredients: 100% Australian Beef Bone Broth (88%) Naturally evaporated sea salt. Human Grade ingredients for Pets.
Refrigerate once opened. 
Serving Suggestions:  Pets under 15 kg - 1 Teaspoon - Over 15 kg- 1 Tablespoon. Stir into 100 ml of warm water to make an instant beverage for your pet. It can be drizzled into your pet's usual meal or dry granules, boosting nutritional value.
NOT AVAILABLE FOR US, CANADA, UNITED KINGDOM AND EUROPE PURCHASE ONLY AUSTRALIA.
 Best Before Date 16 NOV 2024
Please be aware that these products are supplementary to regular pet food, and it is not a replacement for their daily food.
,
Customer Reviews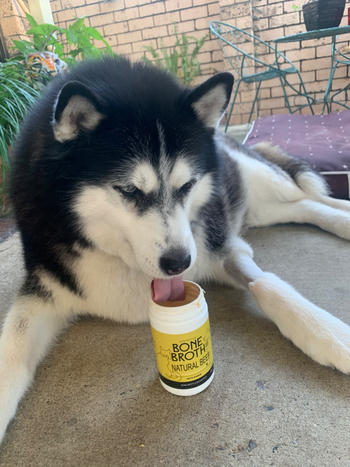 05/05/2020
My dog loves this!
My dog loves the bone broth and eats it all up, I can see the improvement in her coat and all round health, have recommended to friends!
Dallas A.

Australia
12/08/2023
My dogs have a very shiny coat
Linda

United States
05/12/2023
Border Collies Birthday present
My Border Collie guzzled her dry food that was covered with the broth, will definately buy more.
Charmaine D.

Australia
01/23/2023
So far so good
I've only been using this product for a short while but so far so good. Dogs absolutely love it. Easy directions. Once I order it, it came very quickly. No fuss no issues
Penny H.

Australia
08/31/2022
My dog loves it!
Really good!.... super fast delivery and premium packaging!.... great product!!
Mitchell P.

Australia