On Sale
Pet Bone Broth Concentrate - Natural Beef Broth
The perfect tasty bone broth concentrate for your pet! Our pet bone broth is 100% Australian premium grass-fed beef bone broth.
 A daily serving of Bone Broth may offer these benefits:-
Hydration – easy, quick way to get your pet hydrated when they need it the most. Perfect for those days when it is hot, and they stand a chance of dehydrating. A quick recovery idea on a hot day.
Increase Protein intake – every 10 grams of bone broth has 3.2 grams of protein.
Shinier fur coat and improved skin health – daily intake of bone broth will allow their fur coats to be improved, giving them a shiny fur coat and improving their skin health in general.
Some great ideas
Add it to almost anything your pet loves to eat or disguise those food items they need to eat!
Dry and wet food – perfect for drizzling over their bowl of food just as you are about to feed them.
Bone Broth drink instead of water or milk.
Some freezing ideas for those hot summer days:  Make a broth drink as per the instruction and pour into ice cube tray and freeze. Give it to your pet as a treat to help them hydrate and nourish them on hot days.
Ingredients: 100% Australian Beef Bone Broth (88%) Naturally evaporated sea salt. Human Grade ingredients for Pets.
Refrigerate once opened. 
Serving Suggestions:  Pets under 15 kg - 1 Teaspoon - Over 15 kg- 1 Tablespoon. Stir into 100 ml of warm water to make a instant beverage for your pet. Can be drizzled into your pet's usual meal or dry granules, boosting nutritional value.
NOT AVAILABLE FOR US, CANADA, UNITED KINGDOM AND EUROPE PURCHASE ONLY AUSTRALIA.
Customer Reviews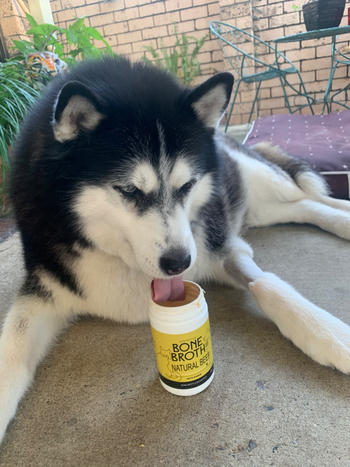 05/05/2020
My dog loves this!
My dog loves the bone broth and eats it all up, I can see the improvement in her coat and all round health, have recommended to friends!
Dallas A.

Australia
07/19/2021
Pet Bone Broth
Both my cavoodles have loved it. Easy to use. No mess.
07/08/2021
The best for my dog that refuses to eat
My 5 year old dog is a healthy boy yet he sometimes refuses to eat even just kibble since he's been changed to only kibble in the morning he refused to eat it... Until I drizzled this bone broth onto the kibble!, He finished ALL his kibble straight up and licked the bowl afterwards!. I'm very happy with my purchase and delivery was amazingly fast. Thank you Australian Bone Broth!. I will purchase again for sure.
Isabella

Australia
06/18/2021
Pet Bone Broth
Our Goldie loves this bone broth, we mix it with her daily vegetables or as a treat with her kibble, it's definitely a favorite!!
Kellie D.

Australia
04/27/2021
Dog Happy - I'm happy
So happy with this product, my 10 yr old pup needs to go on a bit of a diet, so adding more veggies to his dinner, but he hates veggies and picks his dry food out, spitting the veggies to the floor. I now add 100 mil of broth and he eats it all, plus the 100 ml helps with the feeling of a fuller tummy. He weight is stable and putting less stress on his joints. About to order more.
Alison T.

Australia