On Sale
Pet Bone Broth Concentrate - Natural Beef Broth
The perfect tasty bone broth concentrate for your pet! Our pet bone broth is 100% Australian premium grass-fed beef bone broth.
 A daily serving of Bone Broth may offer these benefits:-
Hydration – easy, quick way to get your pet hydrated when they need it the most. Perfect for those days when it is hot, and they stand a chance of dehydrating. A quick recovery idea on a hot day.
Increase Protein intake – every 10 grams of bone broth has 3.2 grams of protein.
Shinier fur coat and improved skin health – daily intake of bone broth will allow their fur coats to be improved, giving them a shiny fur coat and improving their skin health in general.
Some great ideas
Add it to almost anything your pet loves to eat or disguise those food items they need to eat!
Dry and wet food – perfect for drizzling over their bowl of food just as you are about to feed them.
Bone Broth drink instead of water or milk.
Some freezing ideas for those hot summer days:  Make a broth drink as per the instruction and pour into ice cube tray and freeze. Give it to your pet as a treat to help them hydrate and nourish them on hot days.
Ingredients: 100% Australian Beef Bone Broth (88%) Naturally evaporated sea salt. Human Grade ingredients for Pets.
Refrigerate once opened. 
Serving Suggestions:  Pets under 15 kg - 1 Teaspoon - Over 15 kg- 1 Tablespoon. Stir into 100 ml of warm water to make a instant beverage for your pet. Can be drizzled into your pet's usual meal or dry granules, boosting nutritional value.
NOT AVAILABLE FOR US, CANADA, UNITED KINGDOM AND EUROPE PURCHASE ONLY AUSTRALIA.
Customer Reviews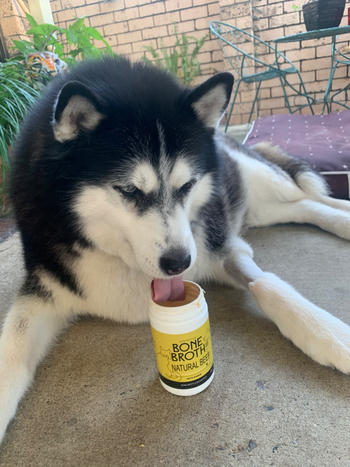 05/05/2020
My dog loves this!
My dog loves the bone broth and eats it all up, I can see the improvement in her coat and all round health, have recommended to friends!
Dallas A.

Australia
10/18/2021
Positive
My dogs absolutely love it
Johnny C.

Australia
10/16/2021
My dog loves it
Very happy, great topper for my dogs food, she loves it!
Simone Y.

Australia
09/28/2021
Perfect
Fast service, got delivered quickly despite it being covid. Noticed a massive different in my dogs coat already she looks amazing after just 1 week of use.
Bea

Australia
09/27/2021
Puppy loves it!
My 7-month old puppy was so hard to feed before. We had to force her sometimes, otherwise she'll skip a whole day without eating. But now, she eats on time. She finishes her bowl within a minute and even asks for a second round. It makes us soooo happy! Lasted 2weeks but wished it was sold in a bigger size.
Jocene H.

Australia