On Sale
Pet Bone Broth Concentrate - Natural Beef Broth
The perfect tasty bone broth concentrate for your pet! Our pet bone broth is 100% Australian premium grass-fed beef bone broth.
We have captured the nutrient-dense bone broth in this nourishing easy-to-digest pet's broth, making it perfect for pets with sensitive tummies.
 A daily serving of Bone Broth may offer these benefits:-
Hydration – easy, quick way to get your pet hydrated when they need it the most. Perfect for those days when it is hot, and they stand a chance of dehydrating, or they are recovering from injury, illness or an operation. Just mix as directed and they will just lick it up! A quick recovery idea on a hot day.
Improve Joint and Bone Health – our bone broth is full of key amino acids, protein and fats to supply a nutrient-dense topping with their daily meal, giving them the extra boost to look and feel their best.
Increase Protein intake – every 10 grams of bone broth has 3.2 grams of protein.
Promote a healthy gut- this easy-to-digest bone broth is gentle of sensitive tummies. The Proline amino acid in our bone broth helps to reduce any inflammation in the gut and prevent leaking gut by strengthening the lining of the intestines.
Shinier fur coat and improved skin health – daily intake of bone broth will allow their general well-being to be improved and balanced, giving them a shiny fur coat and improving their skin health in general.
Nutrition for the building of young bones, joints and muscle – offering premium human-grade quality food products to your young pet is crucial in the early stages of their lives. Building blocks need all the good healthy collagen and protein to ensure that they develop and grow to their full potential.
Some great ideas
Add it to almost anything your pet loves to eat or disguise those food items they need to eat!
Dry and wet food – perfect for drizzling over their bowl of food just as you are about to feed them.
Bone Broth drink instead of water or milk.
Some freezing ideas for those hot summer days:  Make a broth drink as per the instruction and pour into ice cube tray and freeze. Give it to your pet as a treat to help them hydrate and nourish them on hot days.
Ingredients: 100% Australian Beef Bone Broth (88%) Naturally evaporated sea salt. Human Grade ingredients for Pets.
Refrigerate once opened. 
Serving Suggestions:  Pets under 15 kg - 1 Teaspoon - Over 15 kg- 1 Tablespoon. Stir into 100 ml of warm water to make a instant beverage for your pet. Can be drizzled into your pet's usual meal or dry granules, boosting nutritional value.
Customer Reviews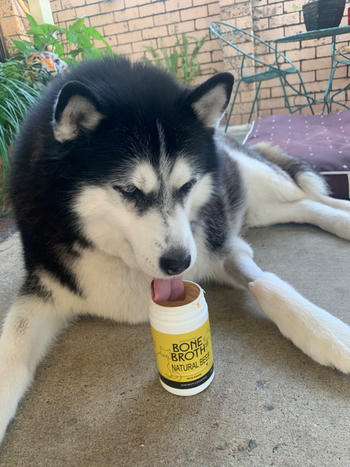 05/05/2020
My dog loves this!
My dog loves the bone broth and eats it all up, I can see the improvement in her coat and all round health, have recommended to friends!
Dallas A.
Australia
07/07/2020
My cats are not a fan
Unfortunately my cats don't like it. They don't eat their dinner if I mix the bone broth in.
Alicia B.
Australia
06/14/2020
Great Product
My fur kids love the broth. I home cook their food and now adding the broth when I've dished up the meal has obviously made it more palatable.. and healthy..
Michele M.
Australia
06/09/2020
Dog loves it
Love this product for my pup. I use it daily as a compliment to his raw diet and he can't get enough of it! Great value, good customer service and postage is always quick. Thank you for providing such a great product at an affordable cost.
Beth P.
Australia
06/07/2020
Bone Broth is Amazing
Fantastic. My dog loves it and I can hide his medications in it with his dinner. Loves the taste and it's so good for him
patricia h.
Australia