On Sale
Turmeric Beef Broth Concentrate with Grass-Fed Collagen Peptides 395 grams
Superior Formulation For Healthy Digestion - Our Turmeric Beef Bone Broth Concentrate is skillfully blended with Super Turmeric, Ginger, Black Pepper, and Collagen Peptide Powder, offering immense digestive benefits and a boost to bones and joints.
Daily Wellness Promotion - Promote healthy sleep, boost your energy, and elevate mood levels throughout the day with this super blend. One serving per day (1 teaspoon/10 grams) helps maintain your overall health.
Months' Supply Of Enhanced Health - Each bottle of our Turmeric Beef Bone Broth Concentrate with Ginger and Black Pepper is designed to last. With a serving size of one teaspoon, each bottle offers 30 days' supply.
High-Nutrient Manufacturing - Our hot fill manufacturing process allows us to capture the potent nutrient value of all ingredients without the need for preservatives, ensuring fresh, high-quality bone broth concentrate.
Assured Quality And Freshness - Our Turmeric Beef Bone Broth goes through rigorous testing and a quality assurance program to meet international standards, complemented by a freshness pop-seal on the cap for your certainty
Ingredients:
 Beef Bone Broth (80%) Beef collagen peptides, Ground Turmeric (0.7%) active Curcumin, Ground Ginger and Black Pepper.
Serving Suggestion: Stir 1 teaspoon(10 gram) into 100 ml of hot water for an instant beverage. Stir through your favorite dishes to add a natural and nutritious flavour boost. 
The opened jar will last at least for 4 months in refrigerated conditions. Use only a clean spoon each time to avoid containment in the jar, then the broth will last until the BBD.
Our current Best Before Date is 30AUG2024
Special Notes: If pregnant or breastfeeding please seek medical advice before consuming.
 Recycled: The metal lid and the glass bottle are widely recycled.
Customer Reviews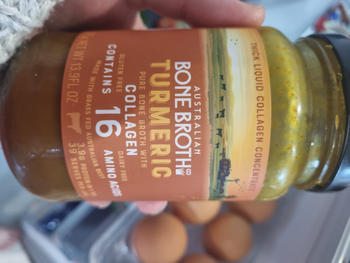 08/21/2023
Quite literally, obsessed.
I am on my 6th jar. Every morning this glorious cup of broth warms my stomach and fills me up. It's packed full of goodness and it's ingredients are clean and healthy. I love it and I've got my husband on to it now also. It's not cheap but it's worth every penny.
Melissa C.

Australia
12/08/2023
Love it! Tastes delicious mixed into noodles ❤️
Louise

United Kingdom
11/13/2023
Turmeric Beef Broth Concentrate
Great protective packaging & speedy postage, rich flavourful product, so far just had it as a hot drink, but sure it can be added to other warm meals like soups, stews, curries for added flavour/nutrition. Like that it will last me more than a month, so good value.Thanks ABBC!
Sonali V.

Australia
06/14/2023
Great taste
Very happy with the taste and Bone Broth is easy to use. Mixed the first teaspoon in my hot meal of spaghetti bolognaise. Next time as a hot drink. Very satisfying to have on these Winter days.
Louise P.

Australia
06/03/2023
Love it!
The service was excellent, the product is fantastic, it's helping me with my joint pain and gut issues. Love it. Will be buying more.
Lisa E.

Australia