On Sale
Bone Broth Concentrate - Natural Beef Bone Broth 375 grams
Starting your day with a cup of our natural beef bone broth is the perfect way to get all the essential nutrients your body needs. Our bone broth is made from only grass-fed and finished Australian beef bones and evaporated sea salt, so you know you're getting a high-quality product. You can also flavour our bone broth by adding fresh herbs or spices. Our bone broth is a great way to boost your favourite meals, and it's also easy to disguise in children's meals, giving them a nutritious boost. So why not start your day with a cup of our delicious and healthy bone broth?
Ingredients: 100% Australian Beef Bone Broth (88%) Naturally Evaporated Sea Salt.
Our current Best Before Date is 15 December 2023
Recycling: The metal lid and glass bottle are both widely recycled.
Customer Reviews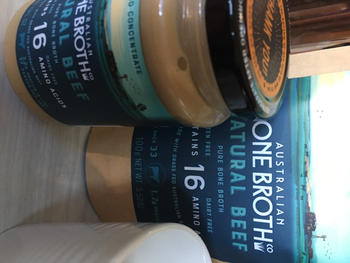 06/12/2021
Natural bone broth
Very tasty as a drink or enhances cooking. Would highly recommend this Aussie product. Delivery is fast & care is taken in packaging so items arrives safely.
Chrissy W.

Australia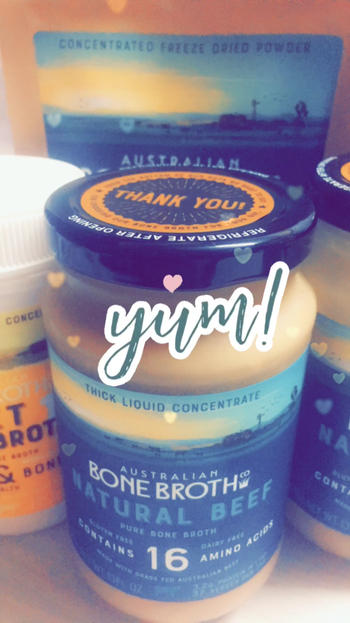 09/14/2020
Honestly best tasting broth
Delicious tasting Beef bone broth to enjoy as a hot drink or added to recipes adding nutrients to your meal. Fast delivery & well packaged. Would highly recommend this lovely tasting broth. Our dog also enjoys the pet bone broth.
Chrissy W.

Australia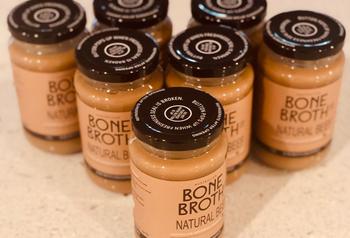 12/04/2019
Deliciousness in a jar
Love the bone broth concentrate, I drink a cup every morning. Perfect start of the day
Camilla R.

Australia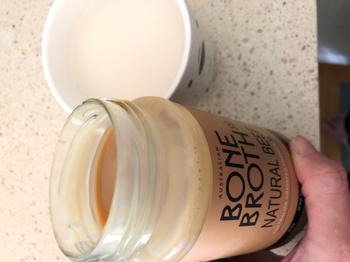 12/04/2019
Simple, clean and nourishing
I love how simple the ingredients are.. just two of them, sea salt and bone broth. Taste wise, delicious and very nourishing for any time of the day. I love the fact that I can come home - hungry and have a hot cup of bone broth to fill me up.
Su T.

Australia
07/27/2022
Haven't received product as yet
I haven't received my product yet