On Sale
Halal Turmeric Bone Broth Concentrate 395 grams
Our golden certified Halal Turmeric bone broth is made in Australia from premium Halal New Zealand beef bones. We have created a smooth Turmeric, ginger and black pepper flavored broth that can be conveniently stored in the fridge and readily available for an instant hot healthy drink or meal booster while cooking.

Fasting and looking for an easy to digest broth that will make the reintroduction process to food easier, then our Halal Turmeric is perfect to nourish you.
That's How we Roll: Our bone broth is: -
Gluten Free
Dairy Free
Soy Free
Nut Free
Preservative Free
Antibiotic and Hormone Free
Easy and Yum: Our convenient easy to digest bone broth is so easy to use, add one teaspoon into 100 ml of hot water for an instant healthy beverage or stir through your favorite dishes to add a natural and yummy flavour boost.

Ingredients: Halal New Zealand  Beef Bone Broth Concentrate (97%) Ground Turmeric (3%) active Curcumin, Ground Ginger and Black Pepper.
Serving Suggestion: Stir 1 teaspoon (10 gram) into 100 ml of hot water for an instant beverage. Stir through your favorite dishes to add a natural and nutritious flavour boost. Refrigerate after opening. Will last for 4 months in the fridge once opened.
Our current Best Before Date is 20 September 2022.
Special Notes: If pregnant or breastfeeding please seek medical advice before consuming.
Recycled: The metal lid and the glass bottle are widely recycled.
Customer Reviews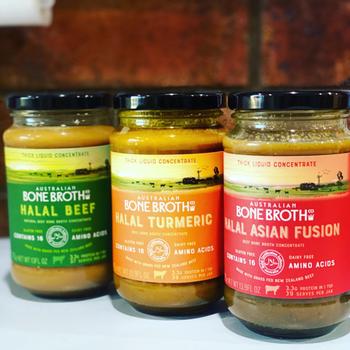 07/07/2020
Best bone broth yet
Honestly you can't get a more premium flavour than this bone broth, taste amazing, smells amazing and isn't unpleasant to drink unlike most bone broth mixes I've tasted.. the best part is that it is 100% halal with a certificate ❤️
Sarah K.

Australia
08/08/2021
Love the customer service,I have been using the halal turmeric for over a year, my children loves it, I love it. It's like a meal just a spoon and half a cup of warm water l. Thank you for having the halal version of the product.
Ali A.

Australia
08/06/2021
Liquid Gold!
This is a perfect anti inflammatory drink! Love it and highly recommend
Anastasia O.

Australia
07/13/2021
Best flavoured
I have tried all the flavours and this one is by far the best tasting. Love that they're halal as well. I have just put in another order for more as well as the new collagen broth. Excited to try this one!!
Iman

Australia
05/31/2021
Nice warm drink and palatable
easy to order, prompt postage, has a really nice taste, no after taste as compared to other bone broth. Best drank when warm, Being halal is a bonus for me, good work ABB,
Ashraf N.

Australia